Repair shop and replacement parts for semi-trucks and buses
Repair and maintenance work in Mannheim and surrounding areas
Jetzt mit uns auf Reisen gehen.
Our repair shop and parts dealer is located at Witzlebenstraße 2 in 69469 Weinheim. We are specialized in the areas of heating and air-conditioning, clutch and transmission, and regular maintenance work. We have fixed prices based on the difficulty of the required work. You will find the minimum prices for our repair and maintenance services listed below. In the case of special services, such as a motor overhaul, where it is difficult to predict the difficulty of the work ahead of time, we charge 95 Euro per hour. Our prices apply both to semi-trucks and buses as well as other commercial vehicles such as fork-lifts and loaders.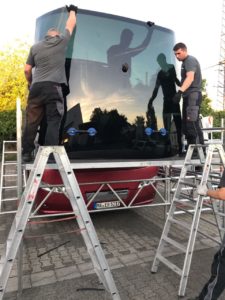 We have six highly qualified mechanics, including two master mechanics, who regularly complete additional trainings such as on the topic of safety or air-conditioning installation.
Clutch
Installation / deinstallation
Service
starting at
250€
plus the cost of parts
Replacement parts
Tires
Used vehicles